Umpire Clinic - Saturday September 2nd!!
Fall ball umpire clinic will be held on Saturday, September 2nd on Mustang Field 1 at Britton. 8:30 to 10:30 for beginners and 10:30 to 12:30 for the advanced umpires. Please email umpires@mhpb.org for more information.
MHPB Shetland All Star team wins Shetland NorCal World Series!!
The Morgan Hill Pony Shetland All-Stars won the NorCal Shetland World Series in Seaside, CA. This is a first for Morgan Hill Pony Baseball in the Shetland Division (5-6 year olds).

8 teams qualified for the World Series from all over Northern California by way of winning or placing 2nd in their section tournament.

Morgan Hill went undefeated in the World Series Pool play with wins over Paso Robles (19-4), Rocklin (20-9), and Bel Passi (Modesto, 19-7). All three pool play games were won by the 10-run mercy rule after 4 innings. Morgan Hill advanced to the Championship game against the 2x reigning champions Tara Hills (San Pablo). Morgan Hill defeated Tara Hills 17-8 to win the Shetland NorCal World Series.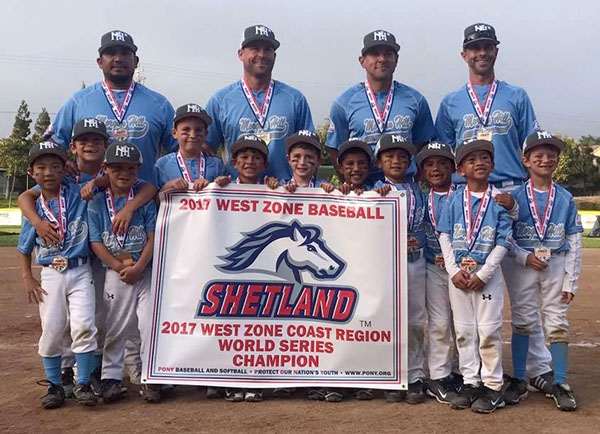 Roster from left to right in the photo:
Front Row: Logan Masaki, Kai Loperena, Bentley Furtado, Ty Realini, Ronan Benamou, Jake Miller, Rajveer Saini, Christopher Vallejo, Bubba Herrera, Jace Asuncion, Colton Brown. Back Row- Coach Nate Herrera, Manager Ryan Realini, Coach Steffan Benamou, Coach Kevin Brown